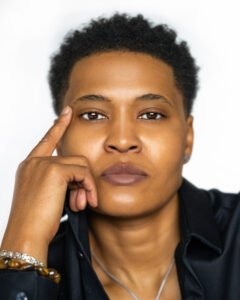 Meet the Weaver of This Web
Erika P. Ryles is a serial entrepreneur, visionary, spiritual life coach and the author of How to Not Give a Shit and Not Be a Dumb Ass in the Process: The Ultimate Handbook on Being a Better Human. She has been working for years in many sectors of business, but now provides extensive counseling in needed areas—such as entrepreneurship, mental health, LGBT+ and socioeconomic issues.
With three business degrees and several certifications under her belt, and an acute focus on international affairs and human security, Erika has covered her fair share of ground academically, while circumnavigating the brutal realities of her own existence. Although Erika is very grateful and proud of her academic and career accomplishments, none of these things matter to her against her passion for helping the disadvantaged and the whole of humanity find its inherent peace. She has been a passenger on a lengthy rollercoaster ride of triumphs and harsh failures, which has granted her a firm grasp on the ladder in the chaos we call life.
It is said that the development of a character in a story comes not from when they are achieving their highest accomplishments, but when they are experiencing the harshest of circumstances. Life is infamous for hitting us below the belt, especially when we least expect it. Erika has gone through a platter of experiences, from being bullied as a smart kid, being surrounded by abusive people from an early age, experiencing betrayals from her loved ones throughout adulthood to just plain terrible luck. Erika has tasted all sorts of failures but her astute abilities allow her to still stand tall. The secret was never in her story, but in her mindset.
It is because of unfavorable events in life that we are pushed to dig deep within ourselves and find our gems. Carbon only turns to diamonds through extreme compression over a vast period of time. With a different perspective on life, Erika elaborates not on how it can be lived with an optimistic and positive attitude but on the engagement with and embracing of the dark and gritty truths that we all choose to hide in our closets. We do not like addressing these matters, but that is precisely why Erika brings them to the forefront of the conversation. The world is cruel but we don't stop being good human beings for ourselves and others. We have to take this life for what it is and change it to reflect what we want it to be.
This website is dedicated to everything related to self-improvement.  It is far more than a coaching or self-help informational website – it is also a community.  This website will also allow everyone to interact with like-minded people, and share their passions about helping others while becoming a better version of themselves!
Check out The Weaver's new book!
Also, check out this Press Release article on MarketWatch on The Weaver!
New Self-Help Book Aims to Kick Life's Ass and Get Yours in Gear
Disclaimer: We are life & spiritual coaching business.  We are not here to diagnose, treat, or otherwise, any health or mental illnesses. If you are ill, having feelings of self-harm, or feel that you may be a danger to others, you should immediately seek urgent help by calling 911 or going to your nearest emergency room. Be well!